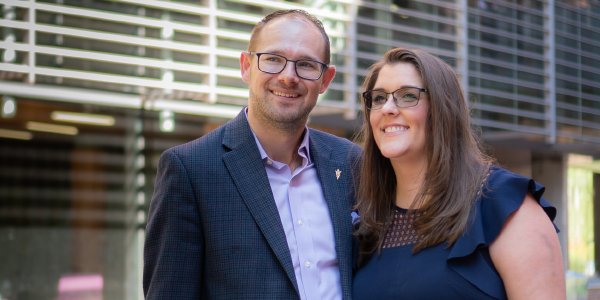 Darin Shebesta remembers being in his first day of design school at ASU when his professor proposed a make-believe situation and solicited an out-of-the-box solution from the class.
There's an oil spill on the beach. What are you going to do to clean it up?
"I thought I wanted to be the next Frank Lloyd Wright," Darin says, "but I just thought, I have zero interest in this."
So he immediately walked to the business school.
It was at the W.P. Carey School of Business he found his calling - and a new role model in the man for whom the school was named. More than a decade later, Darin still routinely refers to the motto coined by William Polk Carey: "Doing good while doing well."
The tagline is included in all of his emails, and guides the philanthropic life he leads with wife Tiffany House. Both are financial planners who passionately advocate for their profession. And ASU.
"[ASU] opened doors for me that wouldn't have been open otherwise," Darin says. "So there's an element of being grateful about that."
Inspired to leave a philanthropic legacy and help educate the next generation, Darin and Tiffany have included the business school in their estate plans to support students interested in pursuing a similar career.
As business partners, they find immense joy in helping others reach their financial goals while removing stress and worry from the equation.
"We're biased," Darin says, "but we think this is the best profession on the planet."
Darin was just 29 when he devised this plan for his estate, and it remained unchanged when he married Tiffany and formed a family with her three daughters.
"I wish I would've gone to ASU," Tiffany says, laughing. "It's provided him a really strong base of people, networks, referrals, clients within the Valley because of all the people he knows at ASU."
Over time, though, Tiffany has deeply immersed herself in this network, and the ASU community has become an extension of their family.
"I love ASU's desire for inclusion and bringing people together no matter what," Tiffany says. "There's a lot of forward-thinking and innovation, and that's what I want to be part of."