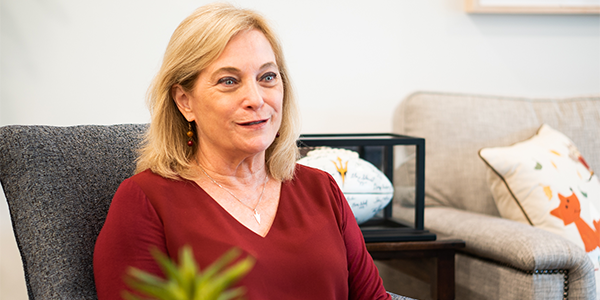 Andrea Vallee Van Essen was introduced to Arizona State University from the backseat of dad's car in the late 1960s. She loved those treks to Tempe and still traces them in her mind from time to time.
Her father, Andre Vallee, already had one degree in his pocket; he completed his undergraduate studies in 1949 from the University of Arizona. But he sought another shortly after his 40th birthday, this time a master's degree in accounting from ASU - and with a daughter to cheer him on.
Today, ASU pride spills out of Andrea's home in Scottsdale. The Tacoma Sparky, a maroon and gold flower named for ASU's mascot, embellishes her front yard. A Sparky flag is mounted by the garage.
She has dad to thank.
While Andre's accounting firm blossomed, Andrea followed in her father's footsteps and found her way back to ASU. She immersed herself in countless activities and athletics events while earning her bachelor's degree. Football games turned into a family ritual; Andre held season tickets up until his passing in 2006, when Andrea inherited them.
Her support never wavered, even through moves to North Carolina and Colorado while she navigated a lengthy career in human resources. Before returning to the Valley a few years ago, she would fly to Phoenix for every home game.
"It's all very ingrained in my life," she says.
That's why Andrea considered an athletics scholarship when she began contemplating ways to give back to her alma mater. But she kept thinking about her dad.
"We decided we wanted to honor him," Andrea says. "We wanted to do something in his memory. He was an accounting student, so we decided we would have a scholarship tied to the accounting department."
The Vallee Family Scholarship was born in 2017. Shortly after, Andrea added the scholarship to her estate plan in a tax-advantaged way. By reserving a portion of her retirement account for the ASU scholarship fund, she protected her gift from taxes that her family would otherwise have to pay.
"I see it as a planning tool and a win-win," she says. "ASU doesn't pay taxes on that money, and I really wanted the scholarship to continue for my lifetime, my children's lifetime, my grandchildren's lifetime. This will make that happen.
"The thing I love about it is that it goes on forever, so even after I'm long gone it will continue."
Andrea was recently at an ASU scholarship luncheon when a student, eyeing her name tag, approached her and asked, "Are you the person who gave me the scholarship?"
She was.
"I was really excited I got to meet him," she says. "This really leaves a lifetime legacy.
"My dad would love it. He was a CPA at heart. He owned a firm here in the Valley and being a CPA was his whole life, so he would love the idea that I did something in his memory that is tied to accounting."