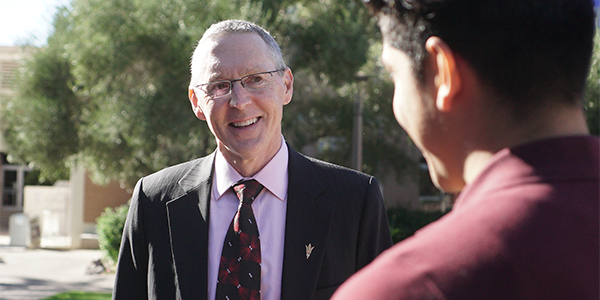 When Ray Schlaff left ASU, he had one suit, one white shirt, one tie, and a whole lot of student loans to pay off. He didn't have a penny in his pocket, but he did have a degree.
"That education opened up career possibilities for me," Schlaff says.
The 1978 ASU graduate took his business degree into the supply chain arena and enjoyed a fulfilling career that took him around the world for several decades. Along the way, he had the chance to call the Netherlands, Norway, Switzerland and England home.
"Those are opportunities I never imagined possible," he says. "It changes your perspective."
This expanded perspective stuck with Schlaff as he entered retirement and sat down to write his will with his wife, Shinlei.
"We started thinking about a broader purpose and how we could give back a little bit," Schlaff says. "How could we change some lives? And I got to thinking about ASU and how it changed my life."
They decided to include a scholarship for ASU students studying supply chain management in their estate plan, sparking an enthusiasm that also ignited them to ask, "But what about now?"
In addition to assets reserved for their estate plan, they also set aside funds to award two scholarships to ASU students each year beginning in 2019 - one of them reserved for a female in their efforts to support diversity in the field.
"I know what it's like if you don't have wealthy parents and you're trying to invest in your education with student loans and part-time jobs," Schlaff says. "If we can make someone's life just a little bit easier so they don't need that second part-time job or they can spend more time on their studies or spend more time with the supply chain club, then I think we've done something important."
Schlaff grew up with seven brothers and sisters in Michigan surrounded by "all the love you can imagine but maybe not all the financial resources that you would have hoped for."
He diligently balanced work with school to make ends meet while earning his degree, juggling different part-time jobs on campus. Schlaff also returned home during summers to work in the Ford factories, all the while managing student loans.
Today, he says he would do it all over again.
"The sky was blue, there wasn't snow on the ground, I ate Mexican food for the first time in my life, I met people from all over the world," Schlaff says, smiling. "I grew up here in a lot of different ways.
"I had a great career and was able to do things that I never could have imagined, and none of that would have been possible without my education here. My time here and my education changed my life to the point where I want to give back."
Giving back, Schlaff says, trumps it all. He not only wants to be a resource for financial support but intellectual support as well, opening up his line to ASU students seeking career advice.
"I went through a time in my life where career advancement was the most important thing and I focused on that," he says. "As my career is winding down and I'm in retirement and I'm reflecting, I find that giving back is on the top of our list of priorities. It gives meaning. It gives purpose to our lives. If you can shift your focus to giving back, I think you're going to find that it's much more rewarding than that all-important career was in the first place."