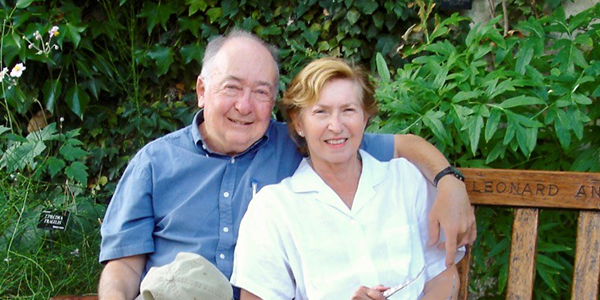 The Pursuit of Knowledge
A life-long passion for learning led Laura and Herb Roskind to ASU-and inspired their philanthropy
Laura and Herb Roskind's introduction to Arizona State University began like most students: settling into a new classroom, reviewing the syllabus, meeting the professor. But the Roskinds weren't competing for a summer internship or working towards their degrees-as recent retirees, the couple had relocated to Arizona and were auditing classes as a way to get to know their new community.
"We were probably a few years older than all of our professors," joke Laura and Herb, who had built their career and raised their family outside of Boston. "But we were welcomed onto campus right away. We like to say that ASU adopted us."
A desire for life-long learning and community led the Roskinds to Arizona State-and has kept them involved with the university in the decades since. Laura and Herb serve on the Institute of Human Origins' research council and executive board, helped to establish the College of Liberal Arts and Sciences Dean's Council, and are members of the ASU President's Club and Cornerstone Society. Through their philanthropy, the Roskinds have established an Early Start Program Scholarship and created academic and cocurricular opportunities across the university, from the School of Earth and Space Exploration to the Center for the Study of Religion and Conflict to the Walter Cronkite School of Journalism and Mass Communication.
But while the Roskinds' support is broad, their motivation is personal. "I was the first in my family to attend college," Herb explains, "and that experience changed my whole life. I've always said that if you have a good education, you can do anything. When I see all the kids that are being given a similar chance at ASU and the excitement on campus - it's just so inspiring."
"What really drives us, though, is supporting something that has an impact, not only in the local community of Phoenix or Arizona, but across the nation and beyond," Herb continues. "I could sing rhapsodically about so many aspects of ASU, but it all comes down to that - ASU is a global institution that is making a real impact on our society, our democracy, and our world."
And the Roskinds credit ASU with helping to make their vision a reality. "We've always wanted to give back," Herb explains. "But the ASU Foundation really helped us see what was possible. Through gifts like our charitable gift annuity, we are able to make a significant contribution in a way that is convenient and comfortable for us."
"We are so grateful for the opportunity to contribute our time and philanthropy to ASU," Laura adds. "It's not about what we've done for the university, it's what ASU has done for us, for the community, for students, for research, and more. We are simply putting our oars in the water, helping do our small part to steer the ship forward."